M. Terry Green is a professional archaeologist in LA, where she has lectured on archaeology at UCLA and worked at the Cotsen Institute under the direction of Dr. Ernestine S. Elster (who addresses me—"Okay, Victoria, here's what happened. . ."—in this charming story about meeting Agatha Christie). In the 1990s, Green and her husband owned and operated their own Internet Service Provider (ISP).
Green has been published by Simon & Schuster, Penguin, Cosmopolitan and The New York Times. She is represented by Dystel and Goderich Literary Management.
Green is now a successful self-publisher with her five-volume futuristic techno-shaman sci-fi/fantasy Techno-Shaman series and the dystopian sci-fi White World Trilogy.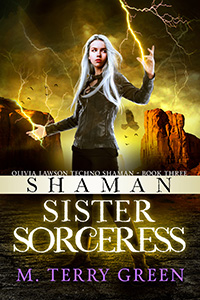 The Olivia Lawson Techno-Shaman series is based on Green's expertise in both technology and archaeology. Olivia Lawson, Techno-Shaman, works in a futuristic LA society where shamans equipped with virtual-reality technology venture between the worlds of the multi-verse to retrieve lost souls. Green's debut novel, Shaman, Healer, Heretic, was a semi-finalist in Amazon's Breakthrough Novel Award with acclaim from Amazon as well as Publisher's Weekly and Midwest Book Review.
The White World Trilogy explores the extremes of both temperatures and desperation. In the unforgiving subzero, Thirteen would do anything to find her sister and finally know her own name, but she never forgets the first rule of the ice: you only get one mistake—your last. Once she's fought her way off the Pacific Ice Sheet and into the brutal world of the volcano city, Thirteen must learn a new rule: find the truth before it finds you.
I worked with Green on developing a new speculative fiction series based upon her expertise in world mythologies.
Green says:
"It's a hell of a lot easier to be in the writing trenches when you've got my back. The most awesome writing advice I can give to anybody: Victoria Mixon."